Here are just a few things that I am currently loving..
1. Magazines. Boy oh boy am I addicted to these. Just look at the current haul on my coffee table.
And really, that isn't all of them. Obsessed.
He is contemplating why it's taking momma so long to make something to send back to her!
3. A new blog I have discovered! Everyone needs to head over and visit The Girl with Wanderlust. I made her the button of the month over there in the left sidebar. She rocks.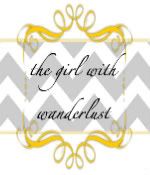 4. As always - this face:
5. In a word - BLOGS. I follow at least 60 blogs, all recently organized into my Google Reader to simplify my life. I also love working on this blog. It has been really rewarding lately and I appreciate all you that read and comment. Love ya!
What are you lovin this Wednesday?